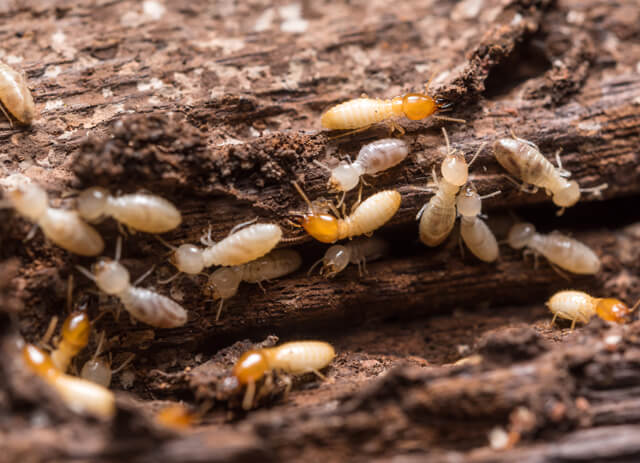 Termites are very destructive pests and if not controlled properly, they can damage the safety and structural integrity of your home or office. The climate that we so enjoy in Charleston and the surrounding area provides many challenges for the control and prevention of termites. Termites are attracted to moist, warm conditions and feast on moisture-damaged and rotten wood. If you don't take real steps to prevent them, an infestation is not only possible; it is probable. The only way to keep termites at bay is through preventative maintenance and annual inspections to spot signs of activity, as well as targeted treatment protocols to keep them at bay.
Our Residential and Commercial Termite Control Protocol
The only way to establish the best termite control methods is to know where an infestation stands. Our initial visit is designed to spot signs of an active infestation (if there is one), then determine what type of termites are causing the damage. Finally, we'll determine the best course of action and treatment method to address the infestation. Our inspections are very thorough, beginning in the attic and working our way through the entire house. We then move outdoors to inspect a ten-foot perimeter around your dwelling.
Our knowledge in the industry gives us the advantage of identifying and observing signs of termite activity and damage that many property owners may not initially recognize. We also know how to decipher whether the infestation damage comes from subterranean termites or Formosan termites. Only by knowing the species can you design the right treatment protocol to effectively eradicate them.
Trelona ATBS Advance Baiting System
Termite bait stations are installed in the soil around the exterior perimeter of your house every six to ten feet. Once installed, if termites are nearby, they'll take the bait and bring it back to their colony, which will work its way through until it eliminates the entire colony. Our bait stations include an annual renewable warranty.
Termidor SC Termiticide Treatment
Our liquid treatments can vary based on the findings of our inspection and the structure of your house. We may drill holes into wall voids or your crawlspace to inject the liquid into these areas. We might also trench around the exterior and spray the termiticide there. Treatment times vary depending on home size and type and also includes a one-year renewable warranty.
Pre-Construction Treatments
If you're getting ready to build a home, you may want to protect it from termites before installing the structure. We offer pre-construction treatments where we fully treat the soil before your foundation is poured; this protects your home against termites from day one.
Wood-Destroying Insect Reports
If you're getting ready to buy a home, you might be required by your lender to have a Wood Destroying Insect Report (CL-100) filed first. This report describes whether there are any signs of activity or damage caused by wood-destroying insects in the house. This service includes the inspection and final report.